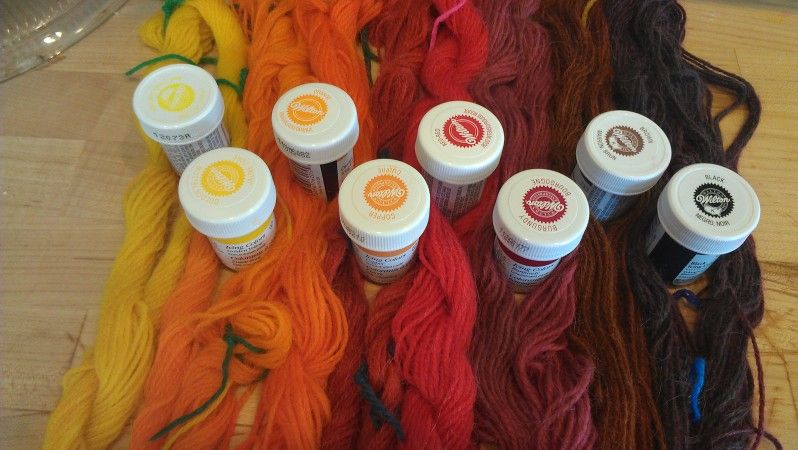 For a long time, yarn lovers have been deepening their fiber romance by learning how to custom dye or paint on their yarns. This exploration has given birth to some of the most gorgeous yarns, both available in the marketplace (Lorna's Laces, Madelinetosh, Baah, Misti International, on and on the list could go) and in private stashes made in one's own personal kitchen sink.
I had admired all of my coworkers adventures in dyeing and I resisted the pull of that adventure. I saw many knitters and crocheters on Ravelry.com showcasing their custom work and I still resisted. Finally, after a considerable period of temptation, I decided to try out dyeing with Wilton Cake Food Dyes. The fact that I could get exactly the type of color palette that I wanted (with room in my heart for happy accidents) was the final lure that caught me.
My first dye job was to make a warm fire palette to make the shawl
Mordor by Ann Lundblad
. My yarn was Berroco Ultra Alpaca Fine. I loved every second of the process and the end result is a shawl that this Tolkien fan wears very often.
Happy Needling,
Anne
P.S. Join me for colorful fun @ Dyeing with Food Coloring on Sat., Mar.2 from 12 to 3 pm.