Here is where it gets spicy. I want to throw in a big project once a month that I buckle down and work up in the given 7 days. As always, there will be a plan of attack so that you may also be a knitting machine. I am calling this a challenge project.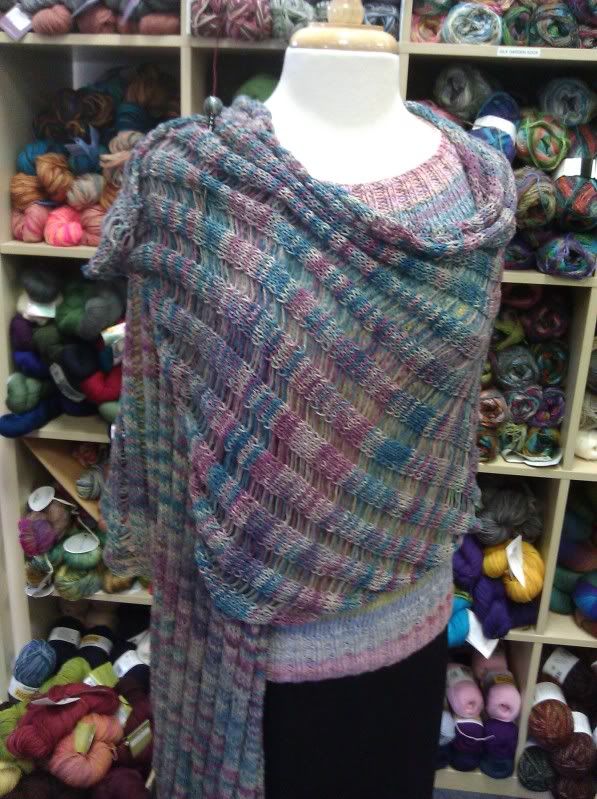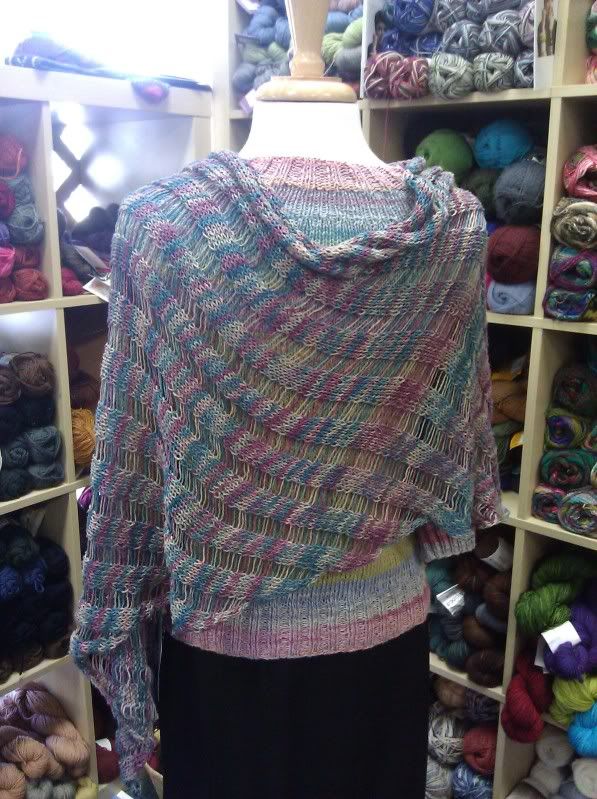 My first Challenge Project is the now classic Clapotis (pronounced klap-oh-tee). Published in
Knitty, Fall 2004
, Ravelry shows 17843 projects listed from this pattern. I have cast on for it at least 3 times before, giving up before I had finished the first section of increase rows. Now that I have successfully conquered this pattern, I think that I had an unrealistic idea of how quickly it should be done and I would grow weary when it wasn't done the same day I cast on. (Yes, I desire instant gratification.) Settling in with a plan and a more sane set of expectations, I was able to finish this scarf in exactly a week's time.
Week of June 17 thru June 24
Needles: US 8/5mm
Time Plan: This time I am giving you the actual blow by blow of how my week went. You will see that there was only 5 days of actual fruitful knitting.
Day 1 - Setup and increase sections
Day 2 - Went too far on increases and carefully ripped back to 95 sts.
Day 3 - 3 repeats of straight rows
Day 4 - Went on a 6 mi walk which was way overdoing it. No knitting was done and the family was lucky that I had set dinner up in the slow cooker before I embarked on my epic walk.
Day 5 - 4 repeats of straight rows; Enjoyed showing my beginning knitting class what dropping sts.on purpose looked like.
Day 6 - 2 repeats of straight rows
Day 7 - Remaining 5 repeats of straight and decrease sections. Victory!
Later that month - near miss with blocking wires
Notes:
a) I only worked 12 repeats of Section 2 (the increases) rather than the 13 total that the patterns calls for. This alteration means that I stopped at 95 sts.
b) I was able to work 14 repeats of Section 3 (the straight rows) rather than the 13 total that the pattern calls for. This alteration means that you will have at least enough yarn to complete this section as directed.

c) On blocking, I was conflicted. Some textures created by knitting shouldn't be blocked away. I read up on Ravelry and Knitter's Review, but reading other knitter's opinion, as always wide and varied, didn't help. So, I went to the source. The designer, Kate Gilbert, says no to blocking and that she considers the purl side to be the public/right side. I say go with your gut. I wanted mine to be like the original which was not blocked. Choice made (seconds before immersing it in a bowl of water, phew).
d) This yarn behaves perfectly for purposes of this pattern: it drops nicely when it is time without getting stuck on itself, the strand has a great texture that compliments the texture of the garment, and the silk content drapes beautifully without drooping.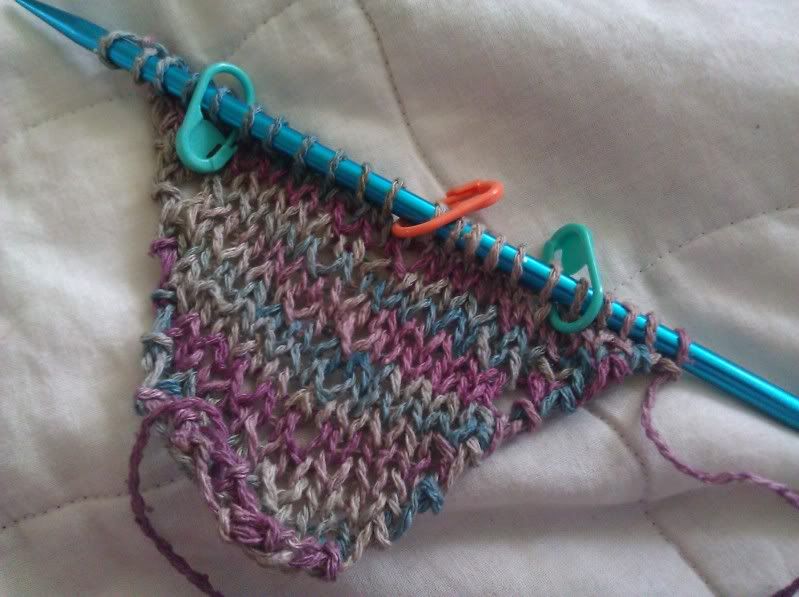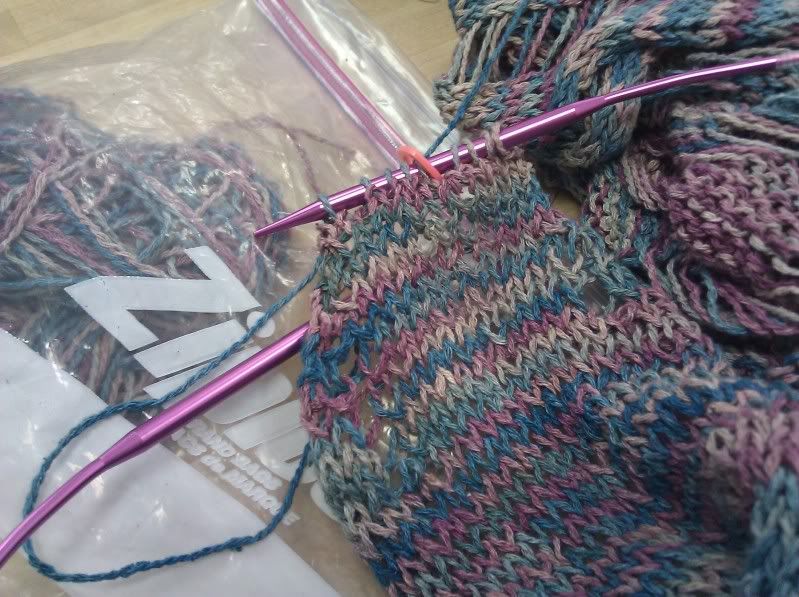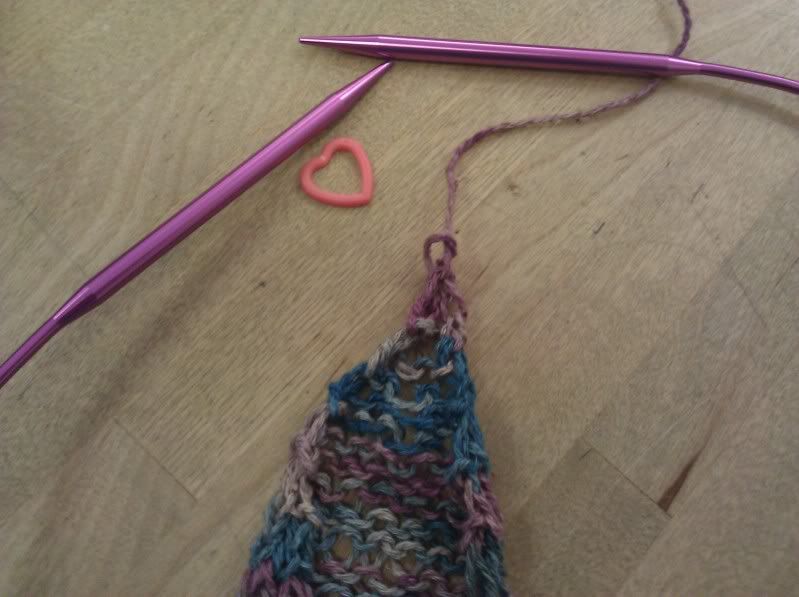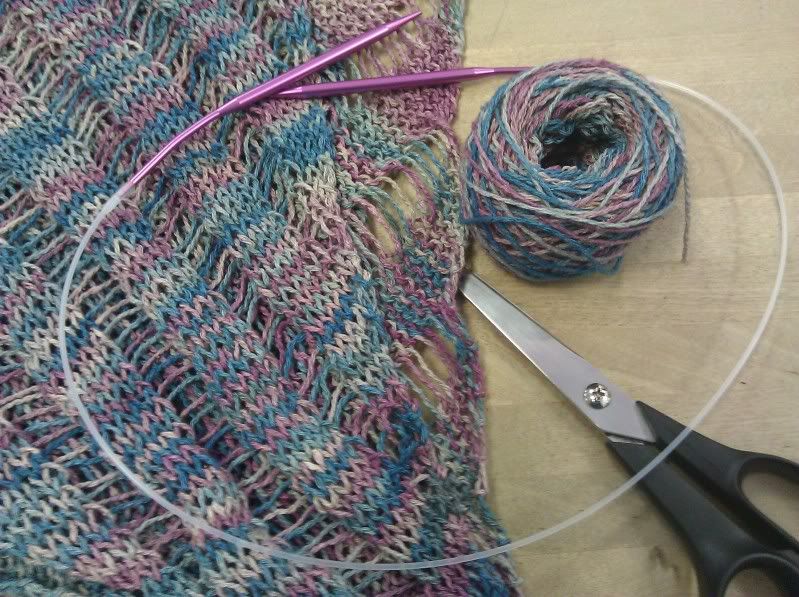 If you are viewing this post far from driving distance from our store, then please remember that we will happily take phone orders. Here is a
link
to a color card to ease your color choosing process. Call us @ (805) 654-9500. (There will be a postage charge for shipping.)
P.S. If this idea really lights you up, then you can also join a ravelry group
here
.