I have been knitting happily and rapidly on class samples as this new year's first month rolls along. Shawls are pouring off my needles. So, this little cuddly lamb was just the little quick break that I needed.
This pattern is just one of many cute little sheep that I plan on making. I am tempted to make them in many colors, like the old ad for Brown Sheep Yarns showing the many colors of wool.
Here are a few ravelry links that I also want to make:
Fluffly Little Sheep
(I think that Kaity may have made this sheep recently.)
Little Lamb Sock Critter
Sheep in Sheep's Clothing
Reversible Wolf in Sheep's Clothing
Lamb
Little Lamb
She is hanging out with her lion buddy that comes from
this pattern
. He appears fierce until he starts stalking the tundra and the jingle bell that I placed in his belly begins to tinkle and jingle. I meant to place a bell in Sheep's tummy, too, but she needs a sporting chance when she is hanging out with the jungle cat.
Week of January 15 to 21:
Project:
Cabled Sheep
by Lion Brand Yarn
Yarn:
1 ball each of Color A and Color B of Debbie Bliss Alpaca Silk (80%Alpaca, 20%Silk, 71 yds/50g)
Needles:
US 5/3.75mm; I used a needle a little smaller than the pattern suggests for two reasons - 1) smaller, denser stitches are better when making stuffed toys, and 2)because it was handy.
Notes:
a) Rather than bind off after completing each side, I left the stitches live with the plan to do a 3 needle bind off later. This move saved me 2 steps, binding off and one seam.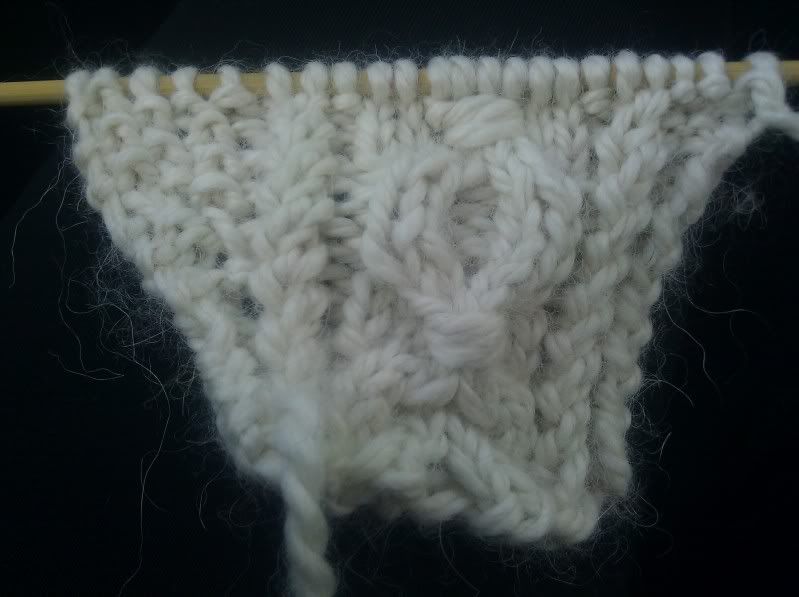 b) When it came to making the limbs, head, and tail, I decided to pick up stitches and knit those pieces to the body. For the tail, I was able to use the tail from binding off to pick up and knit the whole tail.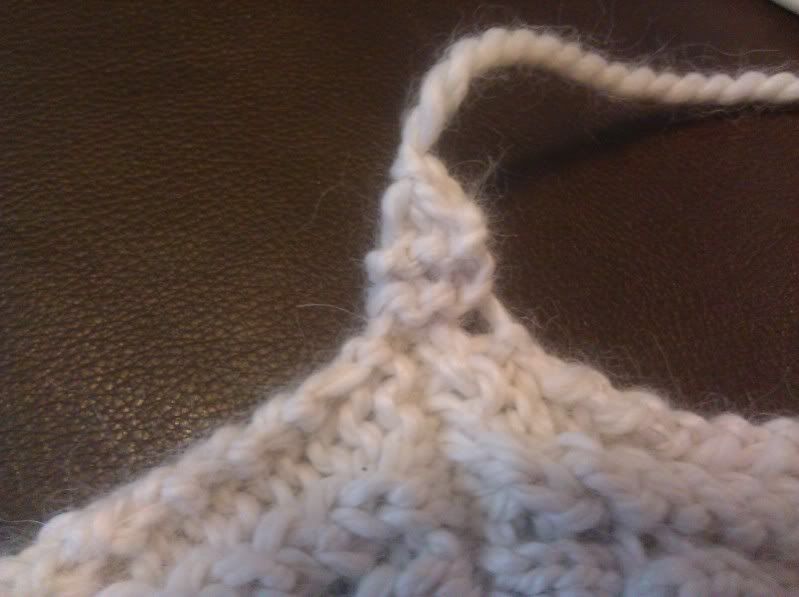 c) The legs were a little trickier; I picked up 4 of the needed 8 and then used an e-loop cast on to cast on the last 4. I used the tails to sew it closed when done knitting. Then, I stuffed the legs with their own tails. No waste.
d) For the head, I picked up 14 sts and worked the head in Stockinette flat. Then, I picked up for the ears. The ears are the only pieces that I would knit separately next time so that you can have more control when placing them. I was stuck with where I put them, because I had already use their tails to embroider the eyes and mouth.
If you are viewing this post far from driving distance from our store, then please remember that we will happily take phone orders. Call us @ (805) 654-9500. (There will be a postage charge for shipping.) Also, I want to mention that we have refined the 10%off sale to apply when you are buying the yarn for the featured project.