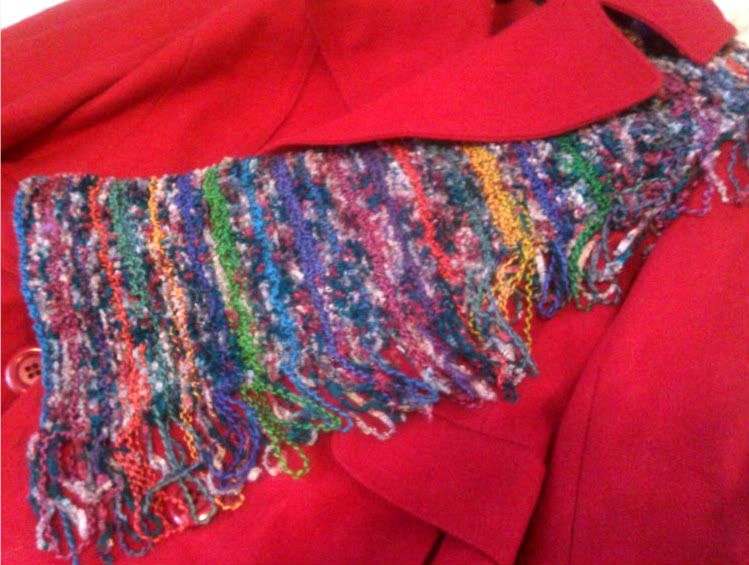 I was hurrying to finish a long overdue knitting debt of some scarves. One had been done for ages and was my inspiration for
Still Waters
. The second one was really hard for me to get back to finishing. I was recently reminded that these were long overdue and that helped move the knitting muses along, double time. I came up with a solution for using up the yarns that were to be mixed and for this week's project.
I dare not call this my
design,
because I have seen this design incarnated many times before my attempt. It is certainly my pattern, though. Such a subtle difference.
I am not easily enchanted by a novelty/fashion yarn, but this Aria has been calling to me since it arrived a few weeks ago. As I work with it, I am reminded of this really cool Missoni yarn that one of our knitters has been long laboring on a wonderful ruana for sometime (something wonderful, large, and chic on US 4 needles). (If you are reading this, dear knitter of the Missoni Ruana, how is it?)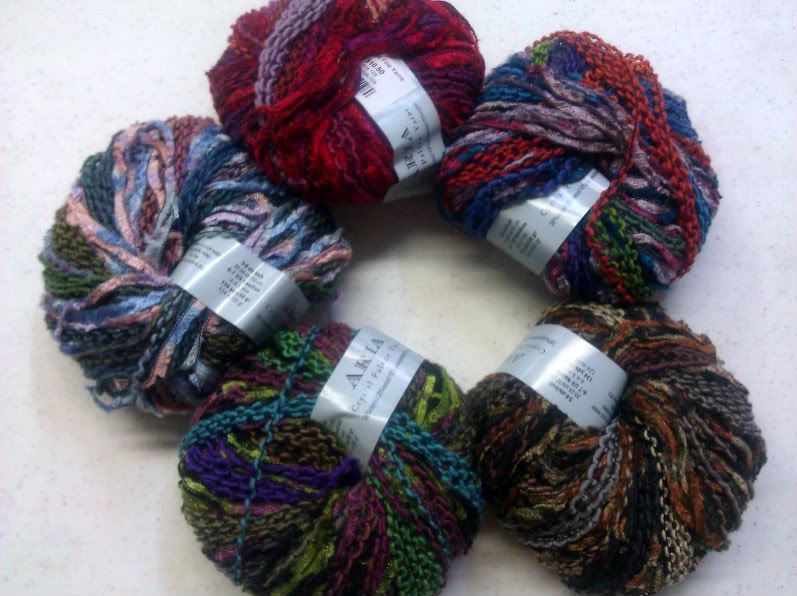 I would like to share some of the many other patterns that also use this or a similar technique for fringing as you go.
Ribbon Triangle #1000
(this one is a sample that we have had for a long time)
Self-Fringed Scarf
(Short ways)
Self Fringed Scarf
(Long ways)
Voss Self Fringing Scarf
(just one more pattern that makes me want the book that it comes from)
Koko Self-Fringing Shawl
Self-Fringing Bias Shawl/Scarf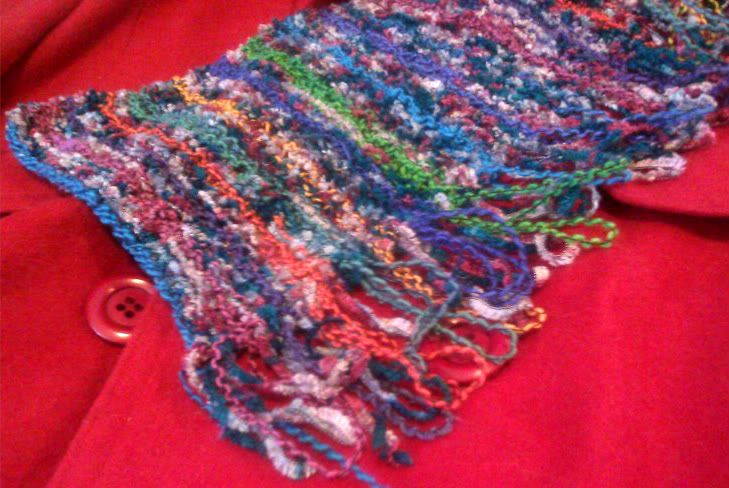 Week of January 22 to 28:
Project:
Fringe Thyself Scarf
by Anne Lecrivain-Cozzoli
Yarn:
3 balls of Crystal Palace Aria (134yds/50g, 38%Rayon, 35% Merino, 18% Polyester, 9% Nylon)
Needles:
US 8/5.0mm (I was going to use US 6/4.0mm, but one of my darling sons broke a needle while I was into the first attempt by about 1 inch.)
Size:
approx. 7 inches wide by 68 inches long (width dos not include fringe)
Gauge:
4sts/in and 8 rows/in in garter stitch
Pattern:
Cast on 32 sts.
Row 1: Knit 4, place a marker(once this marker is placed, leave it in and slip it when you get to it), ktbl(knit through the back loop), knit to the end.
Row 2: Knit until one st. remains before the marker, ktbl, sm (slip marker), knit to the end
Row 3: Knit 4, sm, ktbl, knit to the end.
Repeat rows 2 and 3 until you have about 3 yards left at the end of your yarn supply. Also, end after having worked a row 3.
Bind off until the last 4 sts (after the marker) remain. Fasten off the last stitch that was bound off. Now, the fun part: drop those last 4 sts all the way down the scarf. Do this step methodically, making sure that you have pulled out all 4 sts each row that you drop. Because you twisted the sts that border the dropped stitches, you don't have to worry about these drops coming undone or making your scarf unravel.
Notes:
1) If you want to check out your fringe as you go, then you can drop anytime. Do so at the end of a row 3. To recoup these dropped sts, cast on 4 more sts using the backwards/e-loop method onto the needle holding the sts. Then, carry on.
2) When adding a new ball, do so at the beginning of a row 3. Doing it at this point allows the ends to look as though they are a part of the fringe and you don't need to worry much about weaving them in later.
Here is the scarf that inspired this project: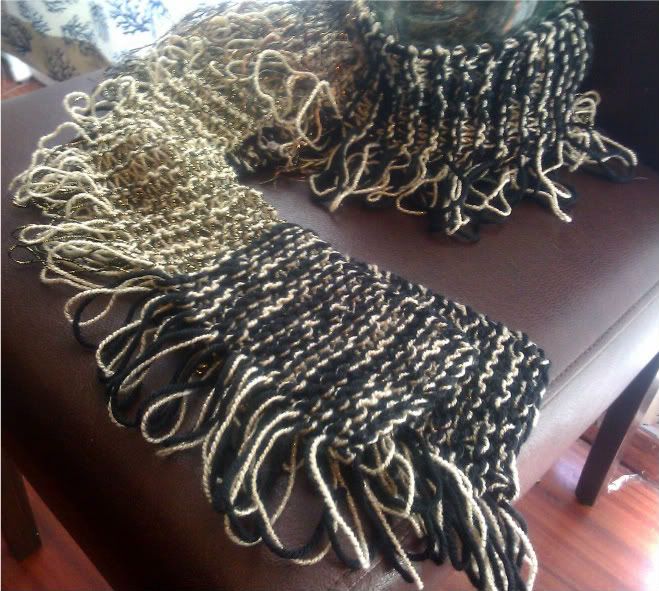 If you are viewing this post far from driving distance from our store, then please remember that we will happily take phone orders. Call us @ (805) 654-9500. (There will be a postage charge for shipping.) Also, I want to mention that we have refined the 10%off sale to apply when you are buying the yarn for the featured project.