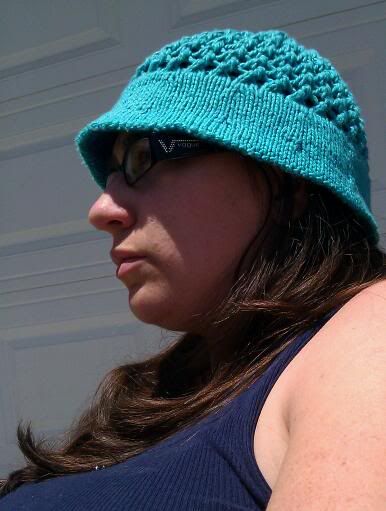 I am calling this the June Bride Bucket hat for two reasons: 1) I married these two great patterns together late last month and 2) I was a June bride (so according to Seven Brides for Seven Brothers, I am always a bride).
I made two, one in pink with a secret orange hem lining and one in turquoise with a secret denim blue lining. I began with the pink and the
Shazzas Bucket Hat
by Sharon of Shazzas Knits. It is a very cute pattern but the brim didn't have the body that I had imagined it would. So, I went on a hunt and borrowed the brim of
A Better Bucket
by Amy Swenson.
So, I have to run my family to Santa Barbara this morning to wrap up my husband's summer job. If you view this post on the morning of Friday, then here is the quick tip on making this project:
1) two hanks of Blue Sky Alpaca Cotton or Mirasol Hap'i; one of your main color(A) and one of your secret hem color (B).
2) work A Better Bucket in color B until you one row before purl turning row. Switch to A and work one knit row and then the purl turning row. Complete the brim by following A Better Bucket.
3) tune back in to find out how I married the body of Shazzas to this brim.