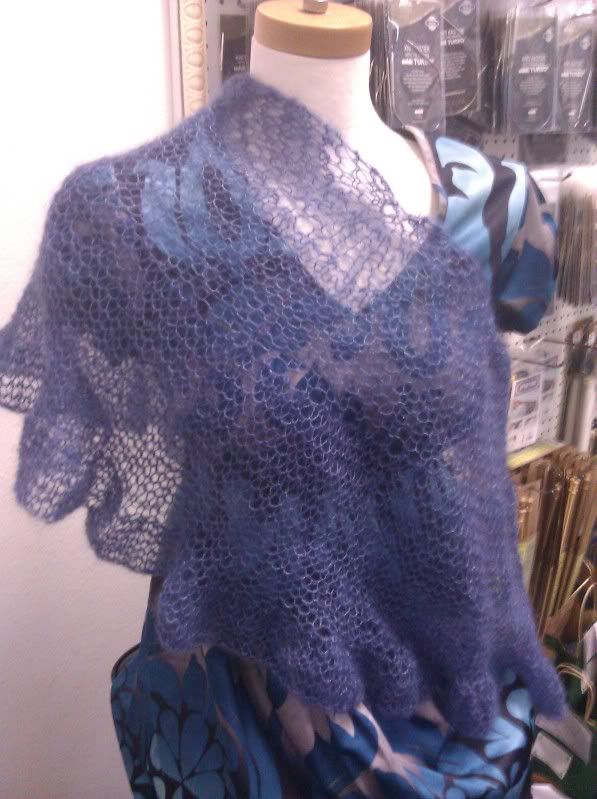 I am working this pattern for the second time, so I must have a warm spot for its results in my little needling heart. The first time that I made it, I needed a fast birthday present for my mom and I whipped it up in a very long evening of very fast and focused knitting. This time around was a little more fun since I didn't have to rush it.
This week all the mohairs are 10% off when you purchase them to work this project (excluding Filatura Di Crosa Gold Line Superior).
Week of September 3 through September 9:
Yarn: Blue: Debbie Bliss Angel, 1 ball of 219yds/25g; and Green: Rowan Kid Silk Haze, 1 ball of 229 yds/25g
Needles: US 8/5mm
Knitting Plan:
Night 1 - Cast on and work through Row 20.
Night 3 - If you feel ambitious, work through Row 72. If you want to take things a bit slower, work to somewhere around Row 56 or 60 and save the rest for the following evening.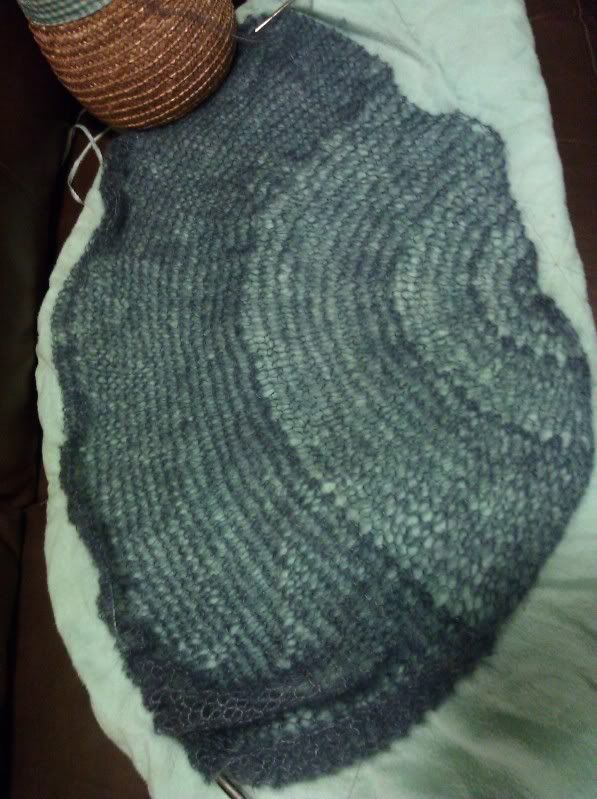 Night 4 - In case you stopped early the night before, finish through row 72 and work the ruffle.
Notes:
a) I knitted my tail in as I worked rows 1 and 2.
b) Stitch counts following the increase rows -
Row 2: 7
Row 4: 13
Row 10: 25
Row 20: 49
Row 38: 97
Row 72: 193
c) After each non-increase even row, having dropped the yarn overs as I worked that row, I would give the whole piece of fabric a bit of a tug since the mohair is a sticky yarn by nature.
d) Somewhere between rows 38 and 72, I remembered a trick that I wanted to try with this project. When working the elongated garter, adding the yarn overs and then dropping them doubles the height of the odd numbered rows. I realized that I could work those odd rows by simply knitting (no YOs) them with a needle twice as large, a US15/10.omm. Even rows get worked with the US 8/5mm still. To set this up, the larger needle is held in your left hand at the start of odd rows and the smaller needle is in the left hand on even rows (perfect setup for interchangeables).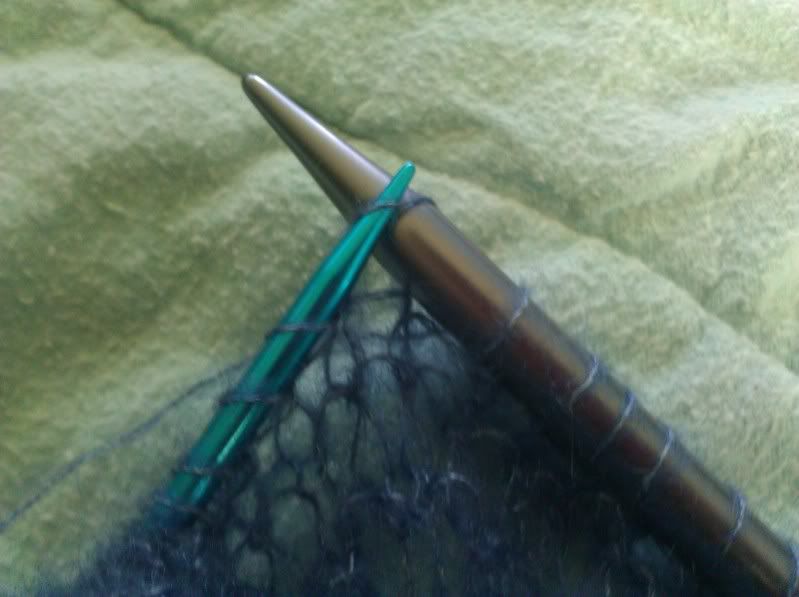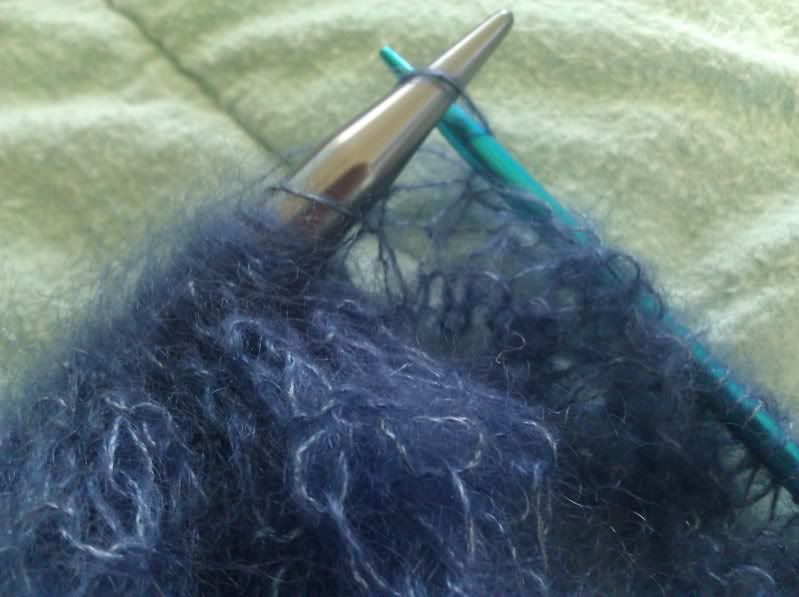 e) To apply the trick of the two needle sizes to my next one (the green), I began by working as the pattern reads through row 10. I then set up with the US 15 and US 8 tips to respectively work the odd and even rows. I returned to the pattern st for the paired rows of 19/20, 37/38, 71/72, which ensured that increasing happened as it should.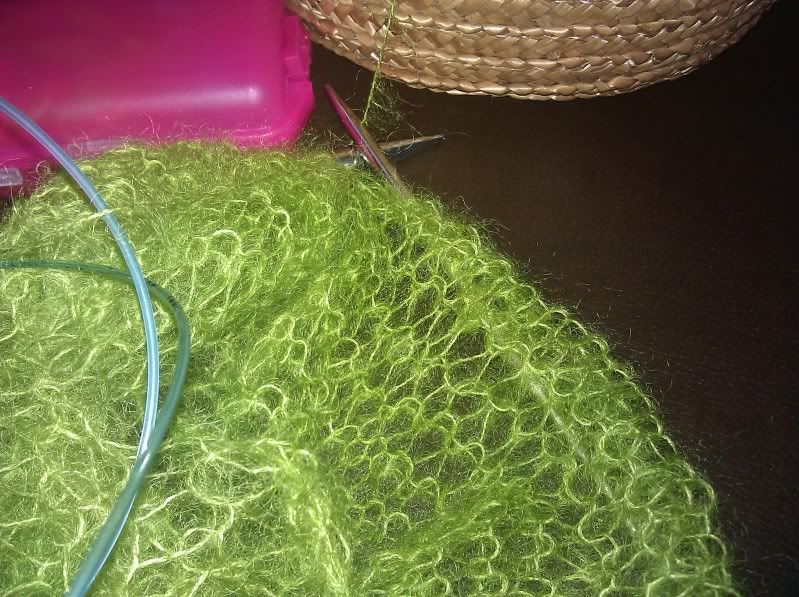 f) I worked the bind off with the larger needle. I had lots of grand ideas for binding off but ended up with a basic BO. On the blue, I only did 10 ruffle rows, mainly because I was getting bored. This decision worked out for the best because it turned out that I only had enough yarn to do exactly that.
If you are viewing this post far from driving distance from our store, then please remember that we will happily take phone orders. Call us @ (805) 654-9500. (There will be a postage charge for shipping.) Also, I want to mention that we have refined the 10%off sale to apply when you are buying the yarn for the featured project.
P.S. If this idea really lights you up, then you can also join a ravelry group
here
.