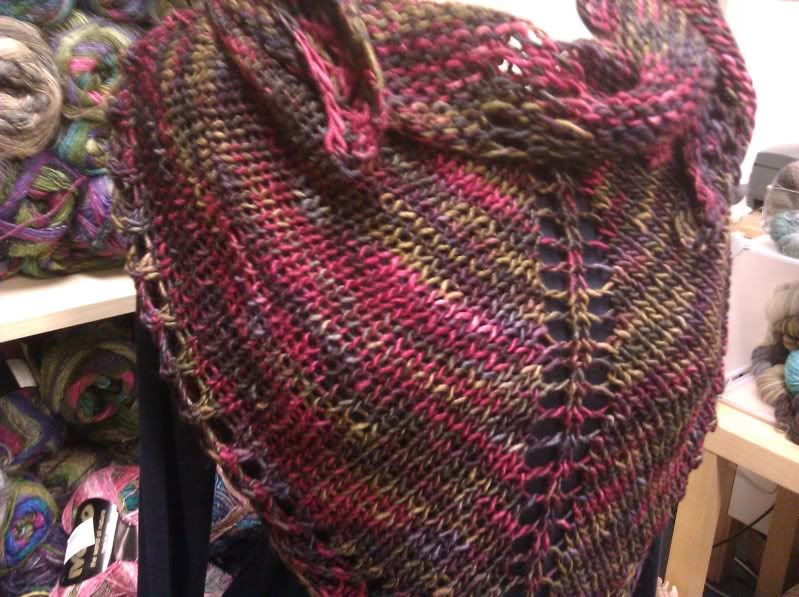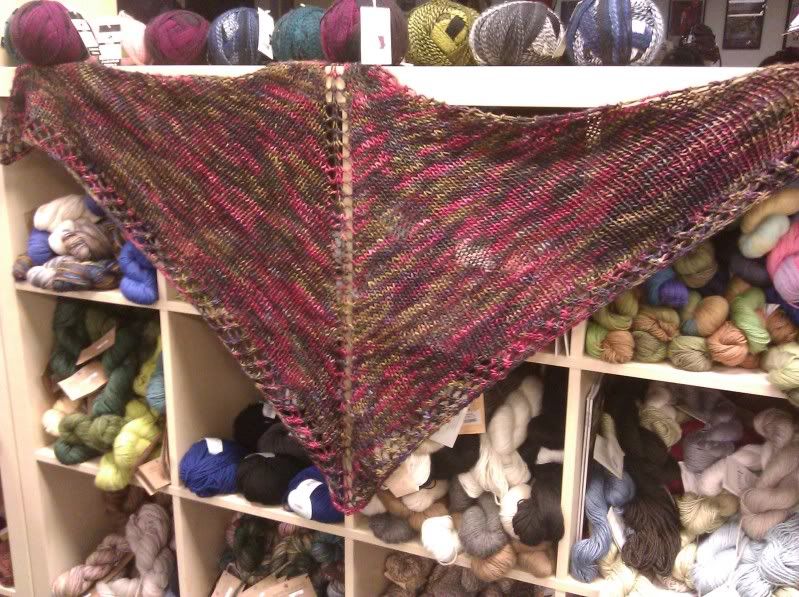 To begin, I would like to actually call this a One hundred Gram shawl rather than a One Skein Shawl, as I am using two hanks of Manos del Uraguay Silk Blend. This shawl is a great recipe for a delicious indulgence in a fun yarn, either for color or content or both. I think that I might be making one up whenever we get new colors of Manos; I always daydream about the luxury of a whole cuddly sweater in this yarn, and now I have a go to project to lightly indulge that cuddling daydream.
Week of August 19 through 25
Project:
One Skein Shawl
by
Clara Parkes
Yarn:
Manos del Uraguay Silk Blend, 2 hanks of 150yds/50g
Needles:
US 15/10.0mm
Knitting Plan:
Let's make this project a three night tour.
Night 1 - CO and watch your shawl grow so very swiftly. Work on it until you are sleepy.
Night 2 - Continue as established, getting through the rest of the first ball and then at least a few rows of the second ball. As your shawl is still growing very fast, be sure to put yourself to bed at a decent hour.
Night 3 - Finish the second ball, work the last 6 rows in the simple lace, and BO.
Notes:
a)With its 5 sts, the first row of this shawl establishes 5 sections: an edge st., a body section, the center st., a body section, and an edge st. Place markers on either side of the center st at the very least; you may also want to place markers after each edge st. Though this pattern is a very straight forward process, markers will help you remember where to increase as you barrel swiftly through a knit row. (Never be marker proud.)
b)This project is a great one for interchangeable needles, as you can start on a shorter cable and then lengthen it as your shawl grows.
c) This thought has little to do with the execution of this shawl: I love seeing all the beautiful colors of the yarn formed into sts that are all lined up and squished up on the needle.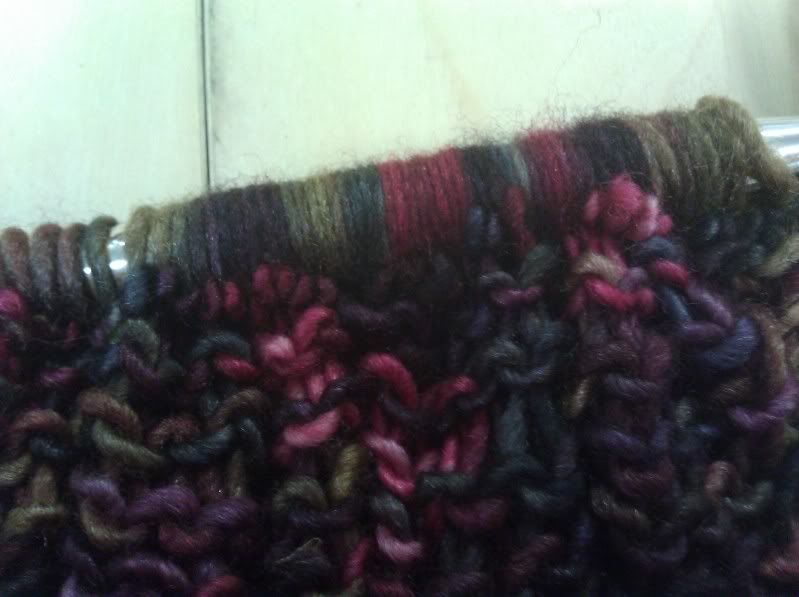 d) This yarn is a perfect candidate for a
spit splice
, helping you to diminish the number of ends that you have to weave in at the end.
e)As I had more yardage than the shawl worked in the pattern, I was able to increase to 75 body sts each side (153 sts total).
f)The bind off described in the pattern, the Flexible bind off, is a really nice BO. I wanted to jazz it up so I followed a yarn over bind off that I memorized from helping many people finish off their
Peace Shawls
. It mimics the simple lace that we established in the border. (At least, I think that I remember it to be as follows.) This bind off is the only part of this project that you need to work in a quiet place. For this shawl, work as follows: K1, YO, BO K1 over the YO, *K2tog, BO, YO, BO, repeat from * until one st before the center st., **K1, BO, YO, BO, repeat from ** 2 more times, ***SSK, BO, YO, BO, repeat from*** until last st., K1 and BO last st. Cut a tail and pass it through the last loop.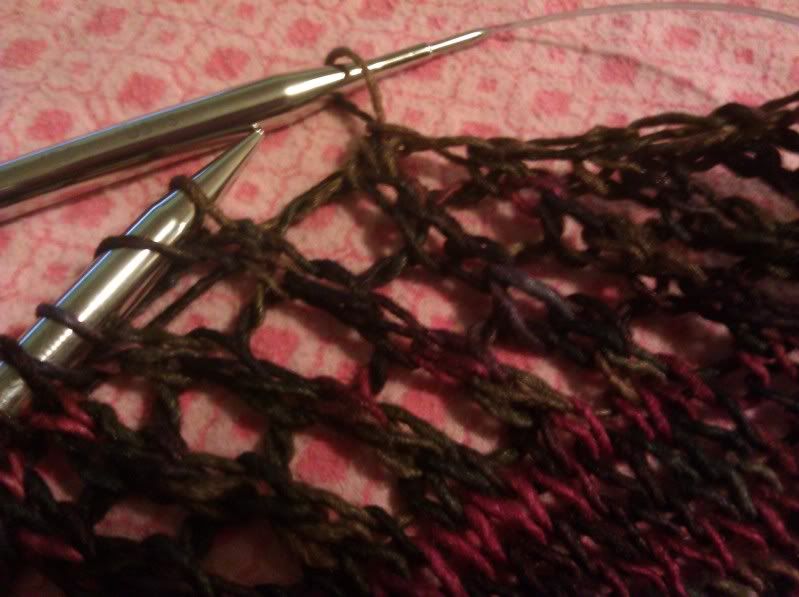 g)On blocking, I just steam blocked the lace edges, meaning that I laid it across my ironing board and gave it shot of steam from my iron. (Don't let the iron touch your work, just let it hover above.)
If you are viewing this post far from driving distance from our store, then please remember that we will happily take phone orders. Here is a
link
to a color card to ease your color choosing process and here is
another
. Call us @ (805) 654-9500. (There will be a postage charge for shipping.) Also, I want to mention that we have refined the 10%off sale to apply when you are buying the yarn for the featured project.
P.S. If this idea really lights you up, then you can also join a ravelry group
here
.