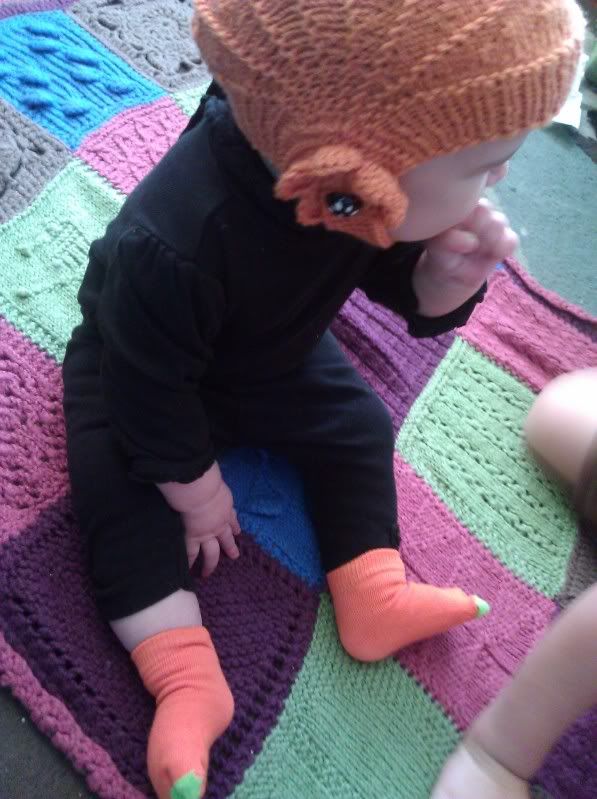 Don't let the lateness of these blog entries fool you. They are both perfect projects to squeeze into a very busy week. They were both finished in a flash (and at the store for viewing). It was getting a moment to update you here that was the truely challenging part...
Everything is orange this week as we get closer and closer to one of my top three favorite holidays. The designer, Justine Turner, predicts that this fun hat will become your go to baby hat; she seems to be right because I want to make them for everyone! She has written this pattern in 3 yarn weights and 7 sizes. I think this hat will keep my little girl warm this October and the next October as well. It fits her well know and I could see it having a bit of room to grow on.
Week of October 23 to 29:
Project:
Aviatrix Hat
by
Justine Turner
Yarn:
Sirdar Baby Bamboo, 1 ball (104 yds/50g, 20%Wool, 80% Bamboo
Needles:
US 5/3.75mm and US 3/3.25mm; these needle sizes were what I needed to get the stated gauge; be sure to check what you need!
Size:
Made the 6 month size with the DK weight instructions
Knitting Plan:
This hat is a very speedy knit. You could even knit it twice in one aft./evening, like i found myself doing when I re-knit it to the correct gauge.
Notes: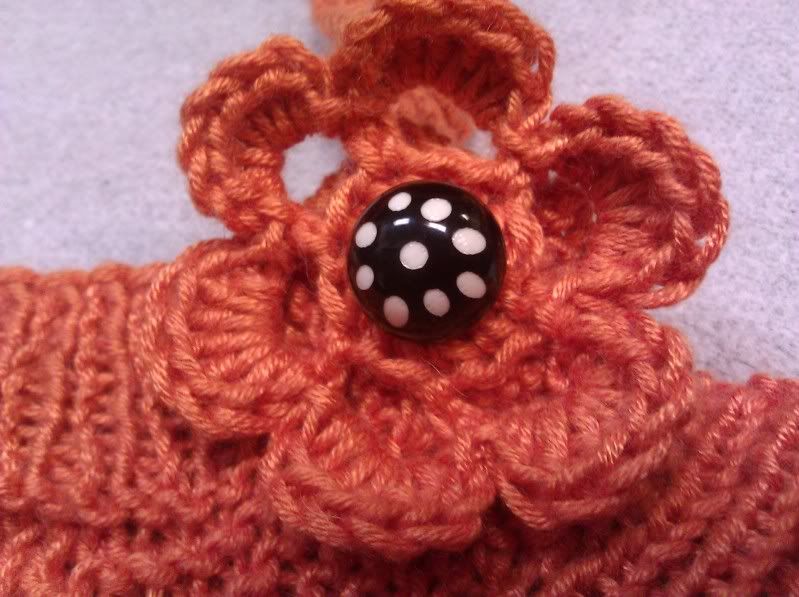 a) This pattern is a great place to learn short rows.
b) Check your gauge; I had to knit this hat twice as I assumed that I knew what size sts I would get with the given yarn and needles. Always swatch; see what happens when you get over confident.
c) The flower is an extra. I improvised this one but there are many free flower patterns, both
knitted and crocheted on Ravelry.
The link will take you to a sampling; you could search for more.
d) Just for kicks, I slipped the first stitch of each row on the chin strap.
For the Current Week:
I am so in love with this cowl from its rich, almost red, pumpkin hue to its absolutely gorgeous and clever i-cord edge. The edge is done while you are knitting by slipping the last two stitches at the end of every row. Though the author points out how swiftly you can make this cowl rather than investing forever in a scarf, I found this simple trick so enchanting that I could have gone in for a long scarf. I am going to be seeking out garter stitch items to add this edging to.
Week of October 30 to November 5:
Project:
The Straightforward Cowl
by
Bethany Hendrickson
Yarn: Debbie Bliss

Donegal Luxury Tweed Aran, 2 balls (really more like 1.5)(98 yds/50g, 85% Wool, 15% Angora)
Needles: US 8/5mm; very happy that I was able to use my very favorite super short scarf needles.
Size: Knitted to the 22 inches that the pattern calls for which is a little snug; the snug fit does promise a very warm neck and isn't uncomfortable. When I make another, I may go to 24 inches.
Knitting Plan: How 'bout a ball each night?
Notes:
a) Forgive me, but it is such an easy, well written pattern that I have no notes to give. Just do as she says and enjoy!
b) Saving my leftovers to go into a hat from Terry's Off the Grid Pattern, a class on

Tue, December 6, 6pm – 9pm.
c) OK, one more thing, as she advises, do be careful as you sew the seam on the cowl. I actually lined the edges so that the overlapped a I wanted them to and just did a simple running stitch.
If you are viewing this post far from driving distance from our store, then please remember that we will happily take phone orders. Call us @ (805) 654-9500. (There will be a postage charge for shipping.) Also, I want to mention that we have refined the 10%off sale to apply when you are buying the yarn for the featured project.