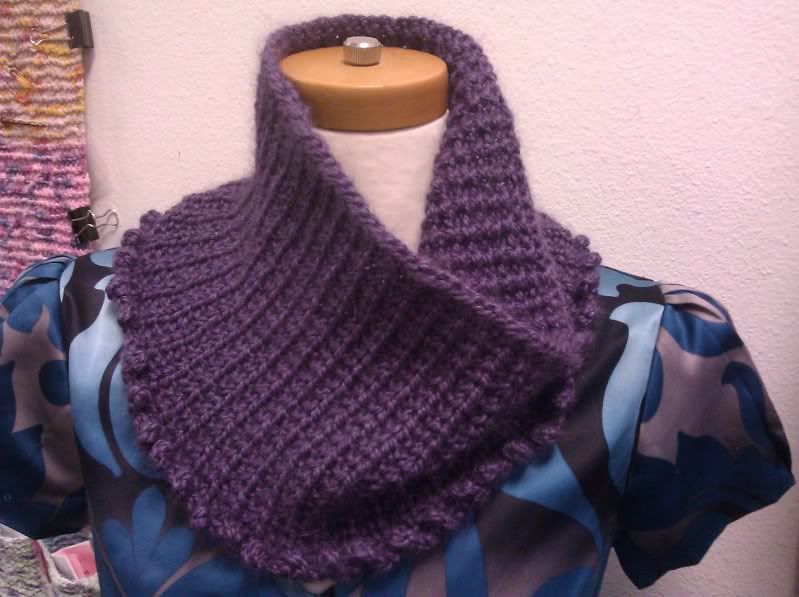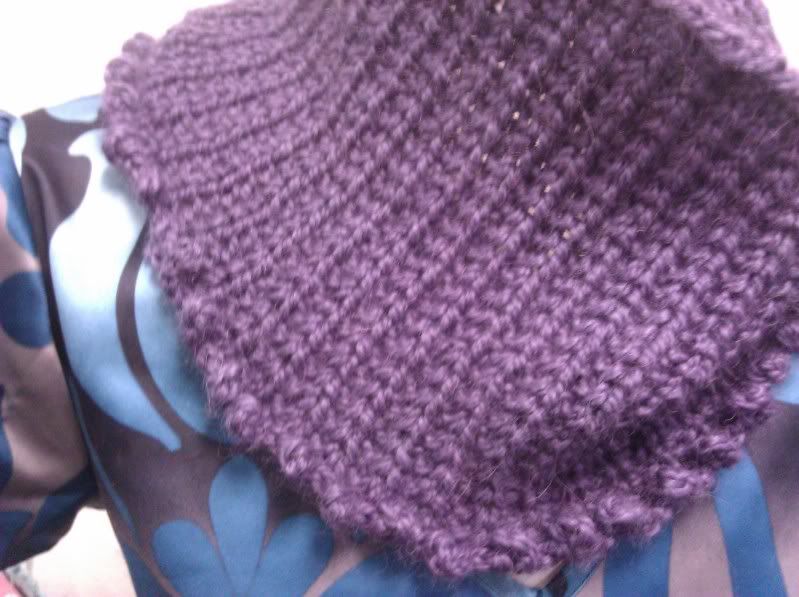 Some things that I have made really fall in the fun indulgence category, things that you only make for your own fun and joy; other things are a natural for speedy gift making. The Reverse Rice Stitch Cowl, which I am now going to lovingly refer to as RRSC, is a great mix of both categories. You can swiftly work one up to give to someone lucky and, then, still have some time on the side to leisurely make one for your own neck.
This cowl features a bind off that seems to run rampant through my pattern choices, the picot bind off. This week is the second time running and it is sure to pop up many more times. When you sit down to do this bind off, don't be in a hurry. Sit down and savor the little bulb of fuzz you you are rhythmically creating. It's going to take a bit of time, but it is such a joy when you make your way around. Here, and in most applications, it really helps to make your finished garment something extra special.
Week of November 13 to 19:
Project:
Reverse Rice Stitch Cowl
by
Angela Baldi
Yarn:
2 balls of Debbie Bliss Alpaca Silk (80% alpaca, 20% silk, 71yds/50g)
Needles:
US8/5mm 16 inch circular; the pattern calls for a US7/4.5mm, but, as the designer points out, gauge is not critical.
Knitting Plan:
How bout 2 inches a night for 4 nights and saving the bind off for the 5th night?
Notes:
a) With two balls of this yarn, I had exactly enough to make the 8 inches that the pattern calls for and the picot bind of at the end.
b) This reverse rice stitch is a pretty fun stitch pattern to work. It is much like broken rib, alternating between a knit row and a K1, P1 row; the difference here is that you will be working the purls through the back loop, ptbl. I was not sure why at first, but this variation seems to make a texture that is more well defined.
c) This yarn is a good candidate for
spit splicing
(links to a "How-to-Monday" video), a good way to cut down on tails to weave in at the end.
d) When you are doing the picot bind off, you will use the
cable cast
(also links to a "How-to-Monday" video) on to execute adding the stitches that become the picots (or nubbles). Below is a action shot of how things look after casting on plus 2 and before binding off 4 sts.
If you are viewing this post far from driving distance from our store, then please remember that we will happily take phone orders. Call us @ (805) 654-9500. (There will be a postage charge for shipping.) Also, I want to mention that we have refined the 10%off sale to apply when you are buying the yarn for the featured project.
P.S. If this idea really lights you up, then you can also join a ravelry group here.