More on speedy gifts - the craze for beautiful ruffled scarves may or may not be news to you. We have accumulated quite a selection of stunning ribbons that are cleverly and easily worked into impressive scarves.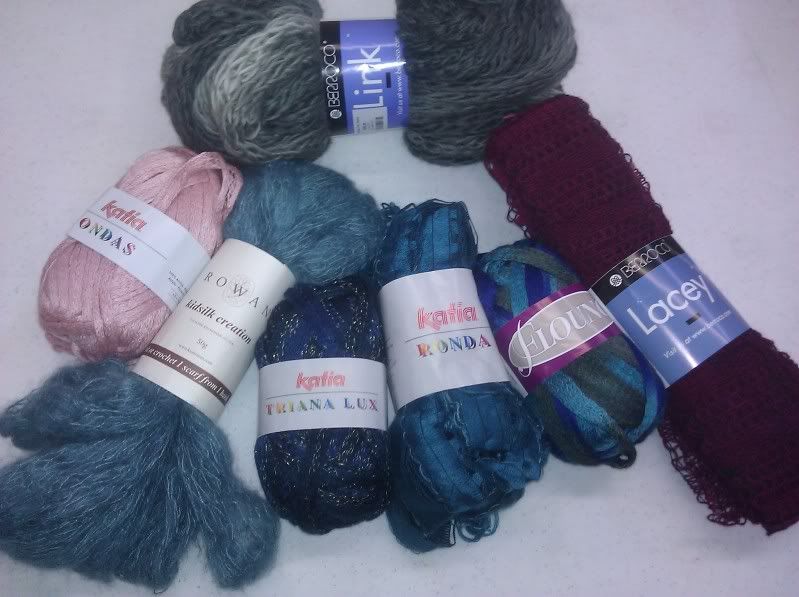 Pictured above(clockwise from the top): Berroco Link, Berroco Lacey, Flounce, Katia Ronda, Triana Lux, Rowan Kidsilk Creation, Katia Ondos
Pictured above(left to right): Triana, Ronda, Link, Lacey, Kidsilk Creation; (top) more Lacey, (bottom) Flounce.
Oh, you say that you have already made a dozen of these as scarves in their many textures? Well, did you try Karin's lovely
Kelp Forest Shawlette
? Using 2 balls of Triana, it spirals out from the center to create a ruffling, circular shawl. She has a
wonderful tutorial
that is useful for making that shawl, but also as a good refresher on how this interesting yarn works in general. Youtube has many other tutorials to offer on the
basic scarf
, as well. With the exception of Link (which you just knit normally with), they all work pretty much the same way as Triana.
Happy Holiday Needling,
Anne