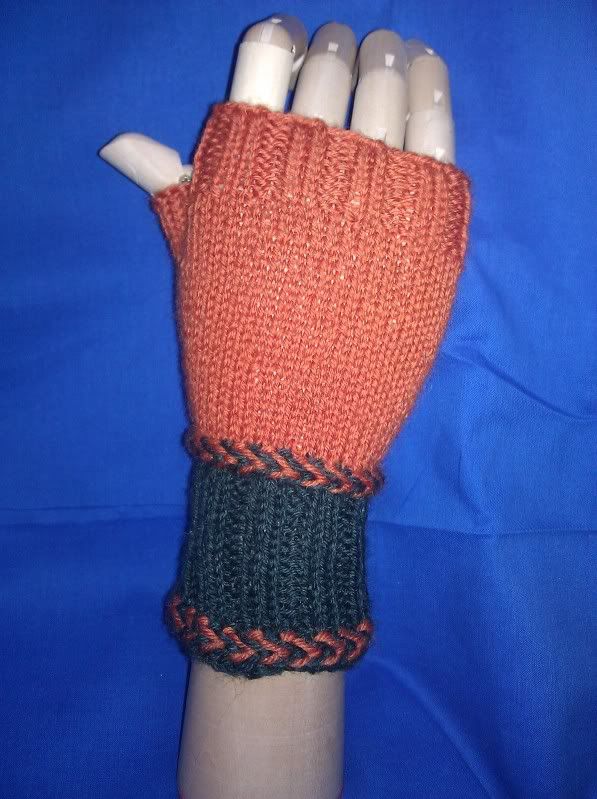 Back to our regularly scheduled programming this week. I have been really looking forward to sharing this next project, the Simple Braided Mitts, with you. I started them while enjoying a slice of pumpkin pie and some pumpkin spice coffee, so, I couldn't help letting some orange shine through as we wave goodbye to autumn and hello to the winter holiday season. They feature a technique that I have long had a crush on, Latvian Braid; this braid is borders the top and bottom of the mitt cuff and is just as much fun as I imagined and far easier than I feared.
The Simple Braided Mitts are first pattern for our featured designer, Nicole Clark, and it is a fantastic entry. I am going to make a ton, whenever I crave a little Latvian braiding.
Week of December 4 to 10:
Project:
Simple Braided Mitts
by
Nicole Clark
Yarn:
Dale of Norway Falk (116yds/50g, 100% Superwash Wool), 1 ball each of 2 colors
Needles:
US 3/3.25mm; be sure to check your gauge as it does matter for fit here.
Size Made:
Medium to fit a 7" around palm
Knitting Plan:
Night 1: Cuff of first mitt
Night 2: Palm of first mitt
Night 3: Cuff of second mitt
Night 4: Palm of second mitt
Night 5: Thumb of both mitts
Notes:
a) Again, this pattern is very well written. I have a
video link
that helped me bridge the gap between my own fingers and the written word on how to execute this move. The video shows a K2,P2 ribbing, but it still helps tons to see how the yarn moves.
b) I love that a self test for whether or not you have completed both rows creating the braid correctly is that the yarn which became very twisted in the first of the two rounds is completely untwisted at the end of the second round.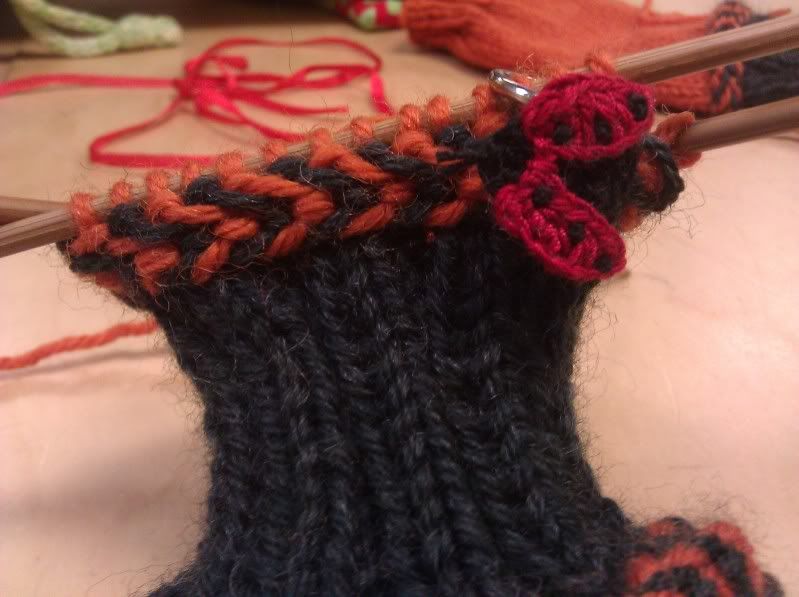 c) It is always important to employ a beginning of the round marker. When I am using double points, magic loop, or two circulars, I usually place a marker after the first stitch one needle 1. A little bit of humble pie and frogging were had by me as I worked on the second mitt: I didn't have my beginning of the round marker in and I ended up doing an extra half a round of the 2nd round of Latvian Braid. I noticed after I had nearly completed the palm. Rippit, rippit. I reminded myself that it is silly to be marker proud. Always use them, Anne.
d) I used my favorite waste yarn to set my thumb stitches aside - thin satin ribbon. It saves the size of your stitches better and slips out easily when you want to remove it.
e) The thumb is a quick step. It is simply worked in Stockinette and receives no ribbing. I chose to purl for my bind off rather than knit. Be careful not to be too tight.
If you are viewing this post far from driving distance from our store, then please remember that we will happily take phone orders. Call us @ (805) 654-9500. (There will be a postage charge for shipping.) Also, I want to mention that we have refined the 10%off sale to apply when you are buying the yarn for the featured project.
P.S. If this idea really lights you up, then you can also join a ravelry group here.