Cable needles! They are a tool that you need in your knitting notion bag if you don't have already OR that your friend needs in the goody bag that you are making for her (or him).
I love cabling! The ladies and I just (like minutes ago) wrapped up making and lining
Brea Bags
and I want to share the thrill of using these handy tools.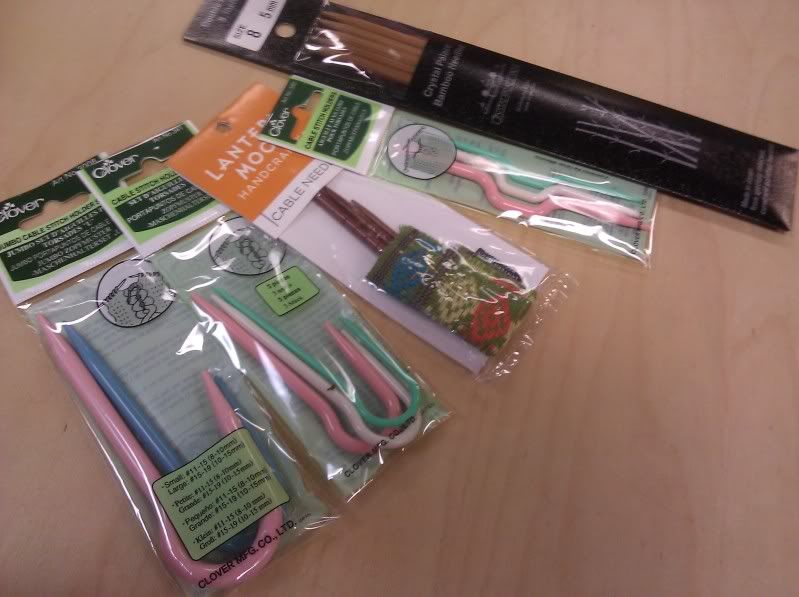 Pictured (from left to right): Jumbo "U" (I like to call it a Shepherd's Hook), "U", Lantern Moon Cable Needles, Cable Stitch Holders, and Double Pointed Needles.
I find that the "U" shaped holders or needles are the best style for those who knit in the Continental style. English knitters or throwers can use any style that delights them. I also included double pointed needles as they are a very versatile tool - acting as a cable needle is just one of their many talents.
Also, cables can make really beautiful gifts - like the
Reversible Cable Scarf
which has still 4 openings (Wednesday, December 14 @ 6-9pm). This scarf makes up really fast if you have to hurry up and fill any gift spots.
Happy Holiday Needling,
Anne
P.S. I know that 52 in 52 is late again - tomorrow - I promise. ;)