This week, I bring you the Clara Cowl. It is a delicious little delight the uses a reversible cable. This cowl was really fun to make, but I think that it would be just as fun to get double or triple the yardage and make an equally delicious scarf. While I was modeling it on the glass girl there, I found that it could be worn as a headband, too, which makes me look forward to having one to wear on walks in the new year.
Week of December 11 to 17:
Project:
Th
e Clara Cowl by
Gretchen Ronnevik
Yarn: 1 ball of Rowan Cocoon (126 yds/100g; 80% Merino, 20% Mohair)
Needles:
US 13/9mm
Knitting Plan:
Night 1: Cast on and work one pattern repeat.
Night 2: same as night 1.
Night 3: let's do night 1 again.
Night 4: the work of night 1 and, then, set it down. Make a cup of tea, meditate a little, and then graft the ends together just exactly as the designer directs you to.
Notes:
a) I did my favorite provisional cast on without referring to the video that she suggests. I used the invisible provisional cast on. The only thing that I did differently from the video that I link to is make my slip knot with my waste yarn and real yarn. You will notice that I used my favorite waste yarn - some satin ribbon. Also, I left about a 1 yd tail in that slip knot because I wanted to make sure that I had reserved enough to work the Kitchener at the end.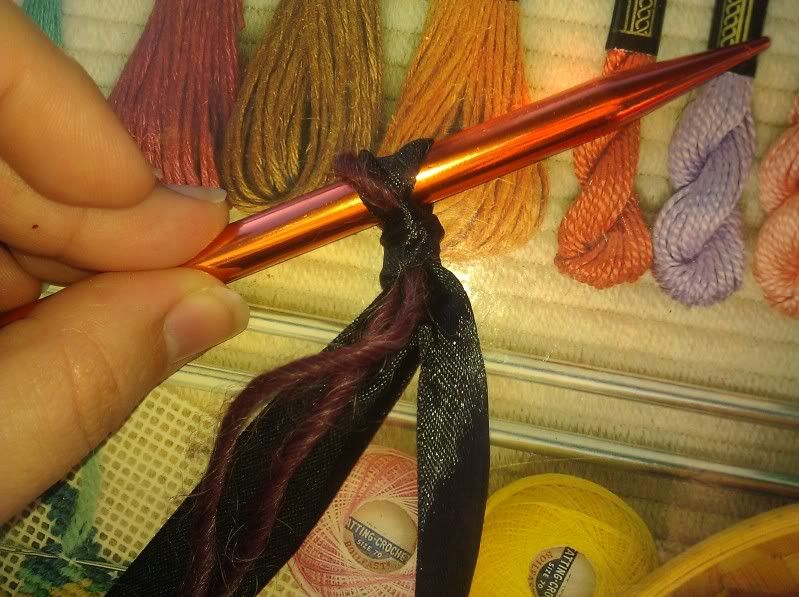 b)To aid in my counting, I would hang a locking ring marker on a purl stitch just as I had finished working a cable row. Then, I was able to count the purl bumps above it to keep track of my rows between cable instructions.
c) Try not to fret about the gap that you might see after you cable; that will all settle in and disappear as the cabled fabric relaxes and it is an inevitable side effect of moving so many stitches out of their previous position into another spot.
d) Be brave when it comes to the grafting. The only thing that I would add to her excellent instruction is to bring the outermost "top" and "bottom" needles together to make the first pair.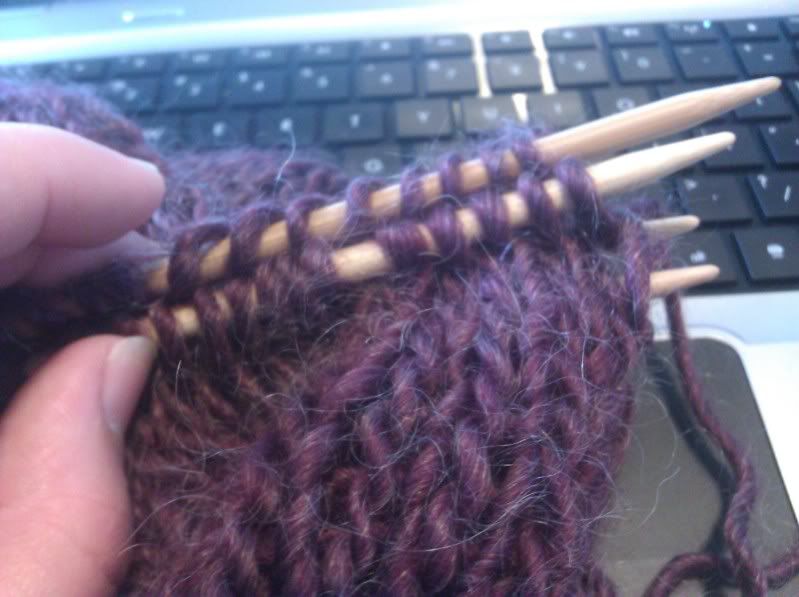 e) My Kitchener/grafting needs some work, but it gets the job done!
If you are viewing this post far from driving distance from our store, then please remember that we will happily take phone orders. Call us @ (805) 654-9500. (There will be a postage charge for shipping.) Also, I want to mention that we have refined the 10%off sale to apply when you are buying the yarn for the featured project.